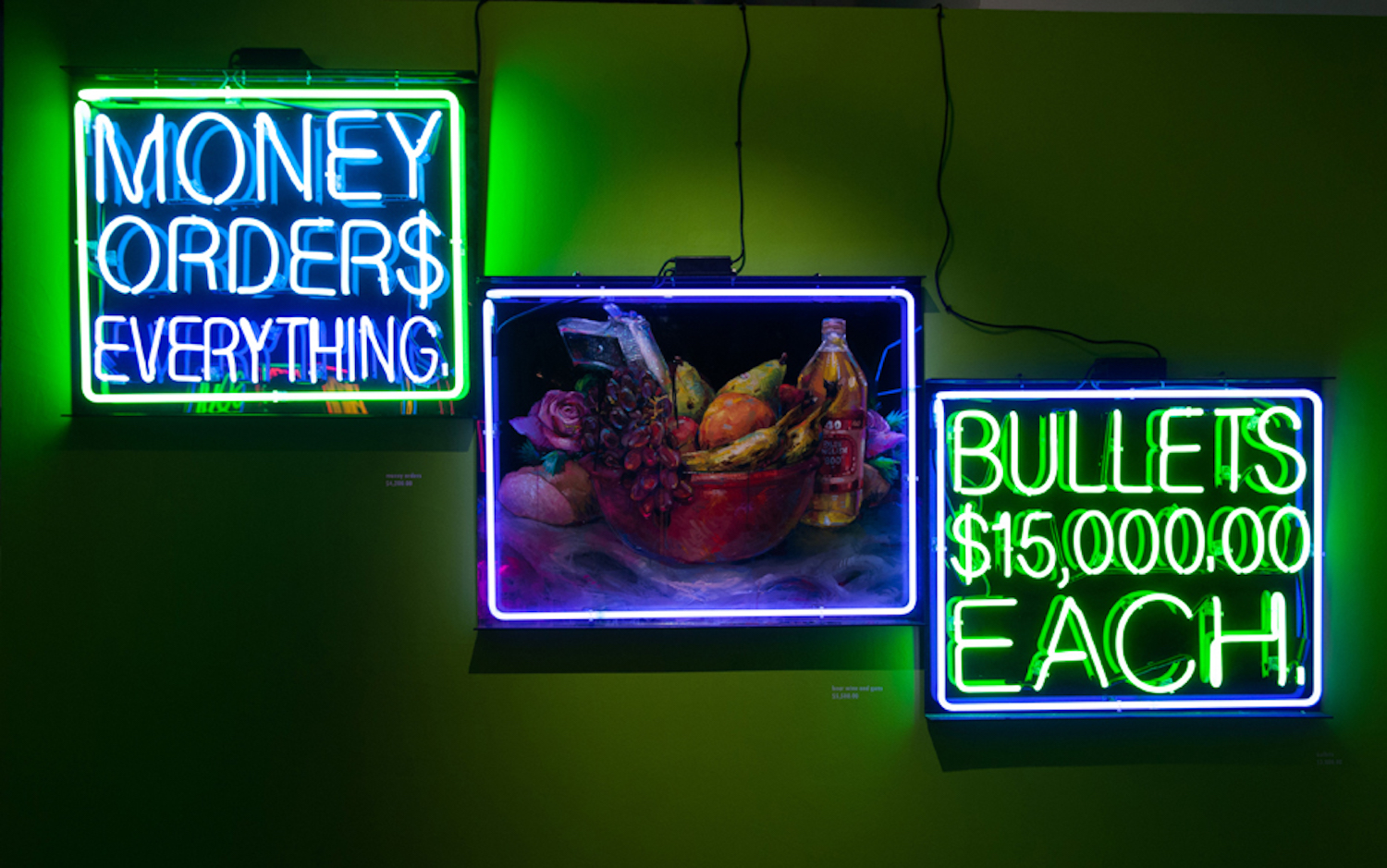 Patrick Martinez | Nov 2013
ABOUT THE SHOW
In this first Midwest solo exhibition, Patrick Martinez examines a contemporary crisis: the dwindling quality of life due to the consumerist and nutritional choices of mainstream America. Buy Now, Cry Later poses as a metaphor for the overall consumption and insatiable need for "more" in the modern world. We are stressed and medicated, balancing our fears over job security, guns, cost of living, violence, diet, money, race relations, education and health. All of these issues weigh the same when it comes to societal problems in dire need of solving; all are symbols that point to a troubled collective culture--a melting pot identity in crisis.

Martinez explores the traditional art form of still life painting paired with his trademark text-based neon works, remixing contemporary culture archetypes found in his home city. In a style that he has made signature, the combination of neon-lit sculptures and paintings evoke new meanings and realizations about society and the conversations therein.
ABOUT THE ARTIST
Born and raised in the San Gabriel Valley, Patrick Martinez's L.A. suburban upbringing and his diverse cultural background (Filipino, Mexican and Native American), provided him with a unique lens through which he interprets his surroundings. Influenced by the Hip Hop movement, Martinez cultivated his art practice through graffiti, which later led him to the Art Center College of Design, where he earned a BFA with honors in 2005. Through his facility with a wide variety of media (painting, neon, ceramic and sculpture), Martinez colorfully scrutinizes otherwise everyday realities of suburban and urban life in L.A. with humor, sensitivity and wit.
Patrick Martinez, (b. 1980 Pasadena, CA) earned his BFA with honors from Art Center College of Design in 2005. His work has been exhibited domestically and internationally in Los Angeles, San Francisco, Minneapolis, Miami, New York and the Netherlands, and he has shown in venues including the Vincent Price Art Museum, Biola University, LA Louver, Showroom MAMA, Providence College Galleries, MACLA, SUR biennial, Chinese American Museum and Euphrat Museum of Art. He has been covered by the Los Angeles Times, KPCC, KCRW, Fusion, Art News, Opening Ceremony Art Blog and Wired. He has work in the collections of the Cornell Fine Art Museum, the Pizzuti Collection, and the Museum of Latin American Art. Patrick lives and works in Los Angeles.
Photo Credit: Sharolyn B. Hagen