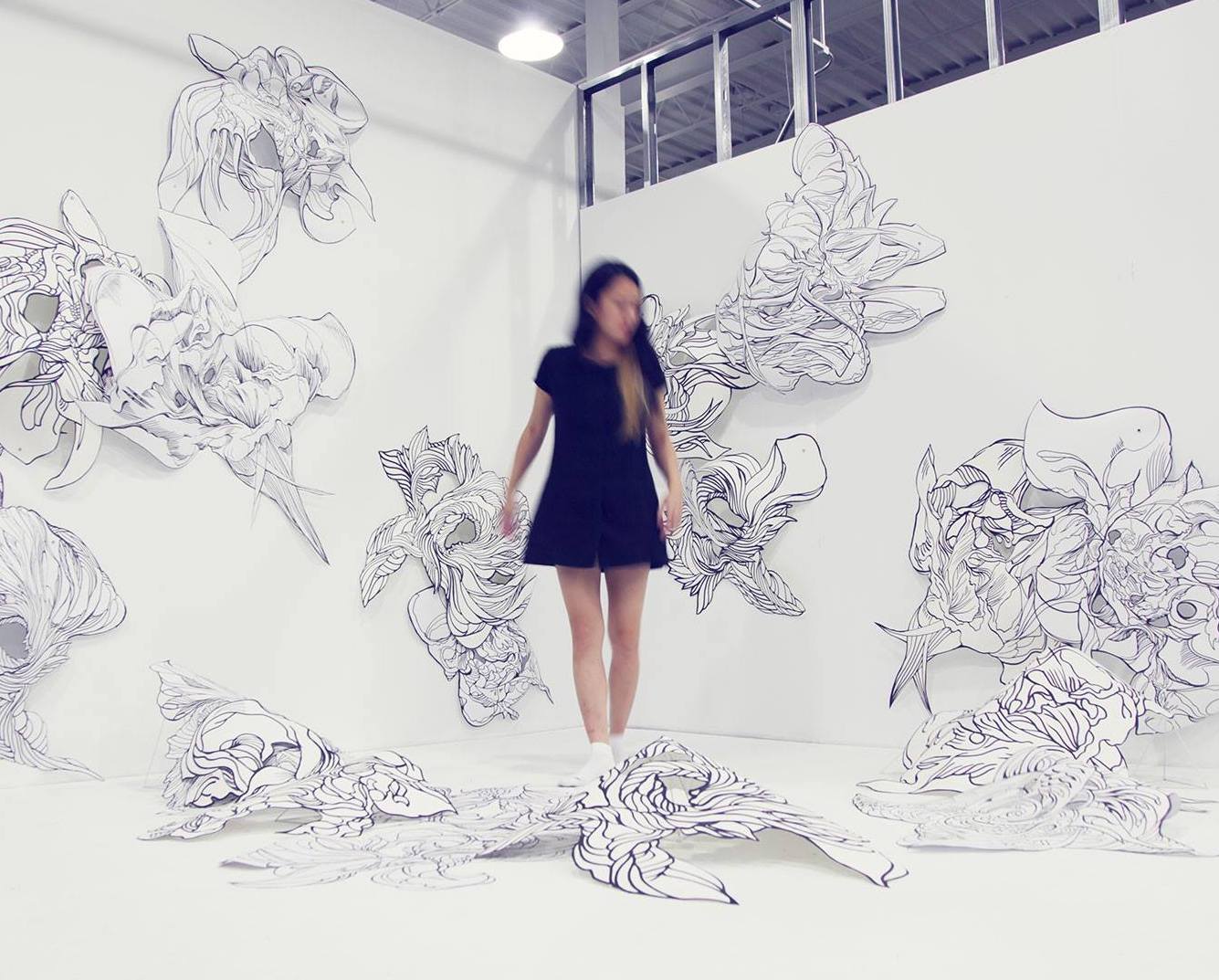 Sougwen Chung | July 2013
ABOUT THE SHOW
Chiaro / Oscuro, Sougwen Chung's first solo gallery exhibition, celebrates the interplay of light and dark, the tangible and intangible, the old and new. The exhibition examines more than 30 works including a large scale installation to provide a retrospective style look at 4 essential elements of her process: traditional drawing technique, digital reproduction, video animation and projection mapping. Her work is a hybrid of traditional art and the immersive possibilities of new technologies. She works across print, digital and environmental mediums, aiming to explore contrasts; the intuitive and the technical, form and function, material and immaterial. The exhibit is titled as a contemporary interpretation of "Chiaroscuro", a term more commonly associated with 17th century painting, that is as hand-made as it is digitally enabled.
ABOUT THE ARTIST
Sougwen Chung is a Chinese-born, Canadian-raised artist and (re)searcher based in New York. Her work explores the mark-made-by-hand and the mark-made-by-machine as an approach to understanding the interaction between humans and computers. Her speculative critical practice spans installation, sculpture, still image, drawing, and performance.
She is a former researcher fellow at MIT's Media Lab and Inaugural member of NEW INC, the first museum-led art and technology in collaboration with The New Museum. She received a BFA from Indiana University and a Masters Diploma in Interactive Art from Hyper Island in Sweden. Chung received Japan Media Art's Excellence Award in 2016 for her project, 'Drawing Operations'. In 2014, she was selected as one of the Top 20 New Visual Artists by Print Magazine.
Her work has been exhibited internationally, including at the Museum of Contemporary Art, Geneva; National Art Center, Tokyo; MIT Media Lab, Cambridge; The New Museum (Sky Room), New York; Tribeca Film Festival, New York; The Hospital Club, London; Mutek Festival, Montreal & Mexico City; Sonar Festival, Barcelona. Her work has also been featured in The New Yorker, Art F City, Dazed and Confused, The Creators Project, MASHABLE, Engadget, Business Insider, Fast Company and USA Today. She has spoken internationally at conferences including Tribeca Film Festival Interactive, New York; OFFF, Barcelona; FITC, Tokyo; Internet Dargana, Stockholm; SXSW, Austin; The Art Directors Club, New York.
Photo Credit: Sharolyn B. Hagen